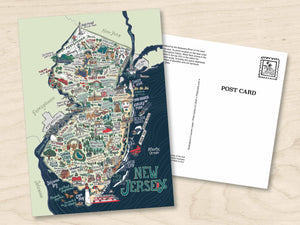 The world's hottest postcard these days is Phila*Carta's NEW JERSEY!!
This card has everything: George Washingon attacking the Hessians, Class-Action Park, a ship made out of concrete (it's sinking, go figure), and speaking of concrete, there's Tony Soprano!
Born and raised in Jersey for 50+ years, this card has attractions that I didn't know of. So much for such a little state. Jersey Proud!!
It's Pork Roll,
Maggie
Who would have thought that a 5x7-inch postcard could contain such multitudes? These postcards are a beautiful rendering of the major landmarks of New Jersey, all beautifully illustrated from a psychogeographical survey of our fair state, which is a fancy way of saying Lauren asked people on social media for their favorite and most important landmarks and she turned all of that into a map. Now let the "why didn't you include…?" begin!